Capitol Glass Company has been serving the San Francisco Bay Area for 70 years, with headquarters originating in San Francisco and currently located in Hayward. A large part of the business has been in public works projects including schools, libraries, community centers, and police stations. The past ten years have included a transition into the private sector, working with some of the best General Contractors in the business:
SJ. Amoroso
Webcor Builders
Swinerton Builders
Bovis Lend Lease
Vance Brown Builders
Roebbelen Contracting
Turner Construction
Stacey & Whitbeck
Granite Construction
Nibbi Brothers General Contractors
San Jose Construction
BCCI Builders
The owners of Capitol Glass Company are president, Tony Jurado, and vice president, Lou Ratto. Both owners are hands-on and accessible on a daily basis in order to provide a personal touch which they feel is still important today. Tony has been a part of the company for 30 years, working his way from an apprentice glazier to purchasing the company in 1999. He is in-office, overseeing project management and estimating. Lou has also been in the industry for 30 years, having run landmark projects and specializing in waterproofing techniques.
Capitol Glass works with all major suppliers in the Glass and Framing Industries. Links to some of them are listed below:
Capitol Glass Co. – a part of San Francisco history
Below is a screen shot from a 1988 Clint Eastwood movie called The Dead Pool. You can clearly see a building in the background with Capitol Glass Co. Sign. This is 264 9th street, and was Capitol Glass Company'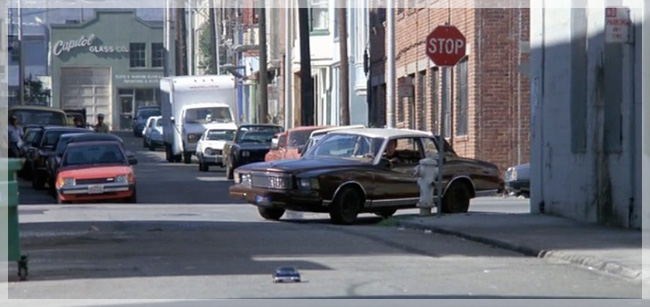 Capitol Glass Racing
The Pro Slammers Door Car Association had its season opener at Infineon Raceway last weekend. Tony Jurado's Capitol Glass Racing took home the first 6.90 Pro Slammers title of the 2012 season along with some Lucas Oil products. Jurado rolled into the event with the car to beat after putting down an impressive string of 6.90s during qualifying. The Circle Bank sponsored 69' Camaro was fortunate enough to get a bye run in round one then proceeded to knock off Mark Gordon's blown 67' Mustang in rd. 2. In the semi's he got the win over Jerry Jahnsen's beautiful 69' Camaro which landed him in his second final round appearance. As the excitement of the first final of the season grew, the Capitol Glass crew prepared their car for another stellar performance. New Pro Slammers member Jeff Gillette in his 96' Firebird had already won in another class and looked to take down the powerful Camaro but when the clocks stopped it was the 69'Camaro winning with a 6.94 to a losing 7.07 for the Firebird. Tony Jurado is the first Pro Slammer to win in two classes. He took home the 2011 Governor's Cup in 7.60 Slammers and now has a win in 6.90 Slammers.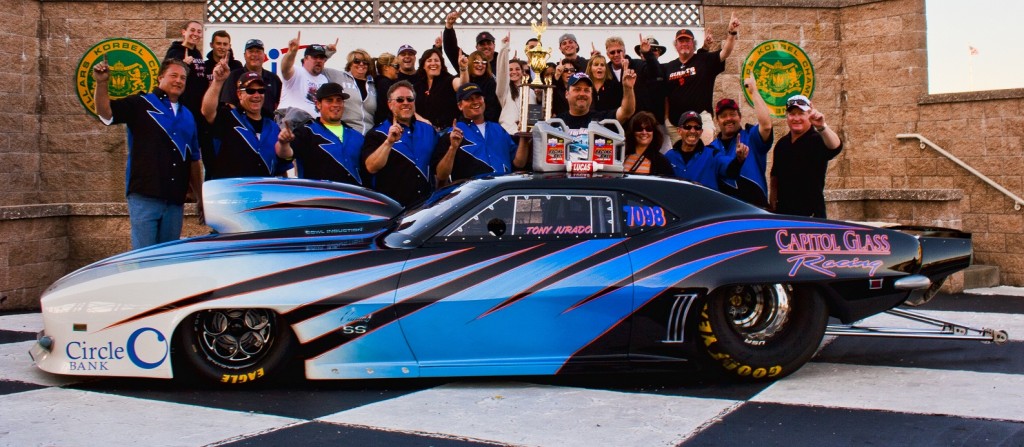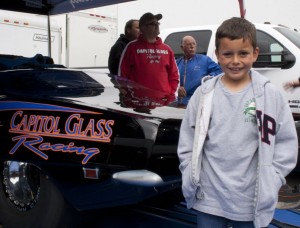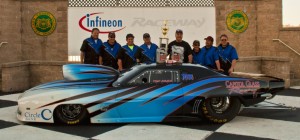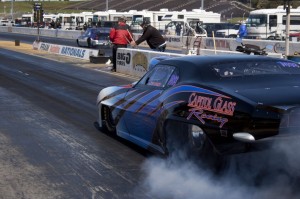 Capitol Glass Company is a proud sponsor of the Pro Slammers Door Car Association, with two cars competing in the 7 Second drag racing class. Many employees take part in various areas of the car racing events.
Below is a picture of Tony Jurado winning the prestigious Governors Cup Race in Sacramento on September 17, 2011. In his first full year of drag racing, Tony's victory was an accomplishment that takes many racers years to achieve. Everything went right that day with a run of 7.68 seconds at 187 mph, an almost perfect run to beat the winner of the previous event, and a cruise to the final round win on his opponent's red light disqualification.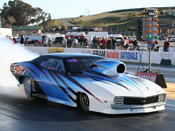 Click on images to enlarge